After seeing all the wonderful things that other people were knitting for Christmas, I decided there was no excuse to not make this Christmas a woolly one. I started late, October 26, but made up for lost time.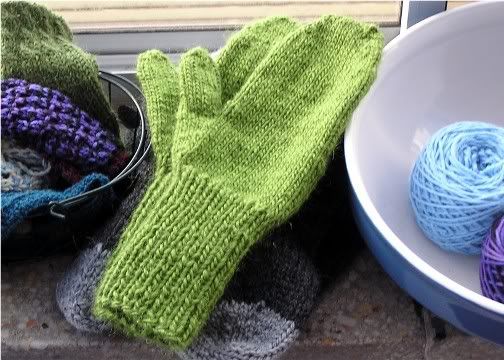 Mittens for my mom
Yarn: Lamb's Pride, colour Kiwi (from Alterknits)
Pattern: Standard mitten pattern from Knitter's Handy Book of Patterns
Adjustments: I extended the cuffs for extra warmth.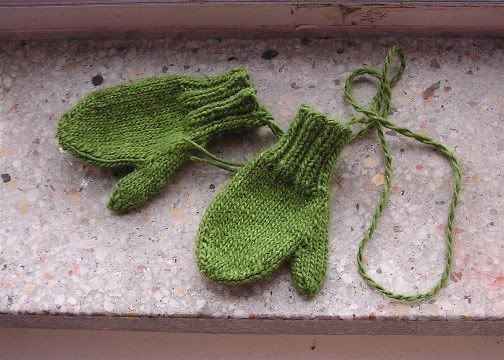 Mittens for Charlie
Yarn: Lamb's Pride in kiwi (what remained from mom's mittens)
Pattern: Knitter's Handy Book of Patterns
I love making tiny things!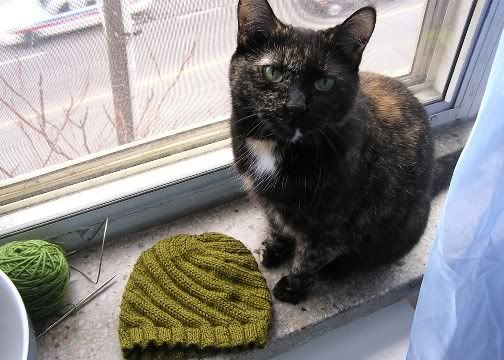 Odessa for Hilary
Yarn: Rowan Cashsoft DK
Pattern:
Here
I was really happy with how this turned out. This yarn is super-durable, only slightly splitty (I blame the 'ssk's) and very very soft.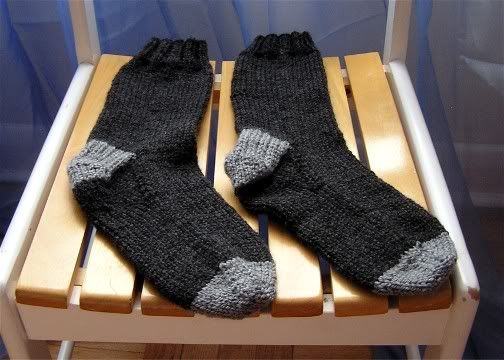 Behold! Giant Dad Socks!
Yarn: Paton's Shetland Chunky
Pattern: Knitter's Handy Book of Patterns
Dad likes really really thick socks, so I always knit them out of Shetland Chunky (machine wash) and use 4mm needles, which make a really firm fabric. I know know exactly how long they need to be to stay above his boots.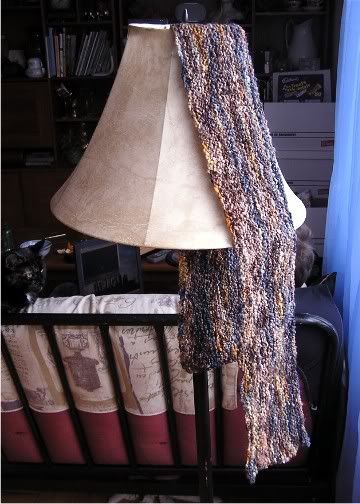 Koigu Fancy Merino Scarf (for my Aunt RA)
Yarn: Koigu KFM (in a kit)
Pattern: Simple lengthwise garter stitch scarf
I think I cast on too tight, but blocking improved it somewhat. The nylon was a little hard on the hands, but that may be because I knit this scarf in two sessions over two days. I fringed it after, but didn't take a picture. For those of you who block on your bed? The orange dye ran a little... it looks like my sheets are slightly rusty now.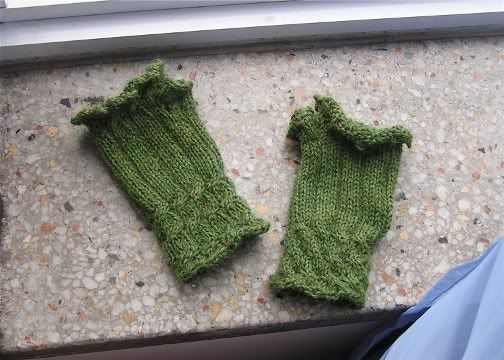 Fetching for Leanne
Yarn: Blue Sky Alpaca Worsted
Pattern:
Here
This yarn is utterly and completely divine. Go now and buy some.
I steam blocked these, and the yarn got even more soft and drapey, though I didn't think that would be possible. The picot edge required a pressing to stay straight. I want a pair for myself!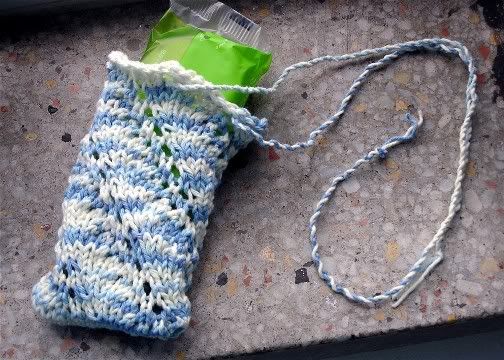 Don't Drop the Soap Pouch! for
Rosemary
Yarn: Sugar N Creme from Mary Maxim (!)
Pattern: My very own!
My mom had one of these that my grandma had crocheted... I decided to make my own version. I always thought they were a neat idea, a washcloth and soup dish all in one.