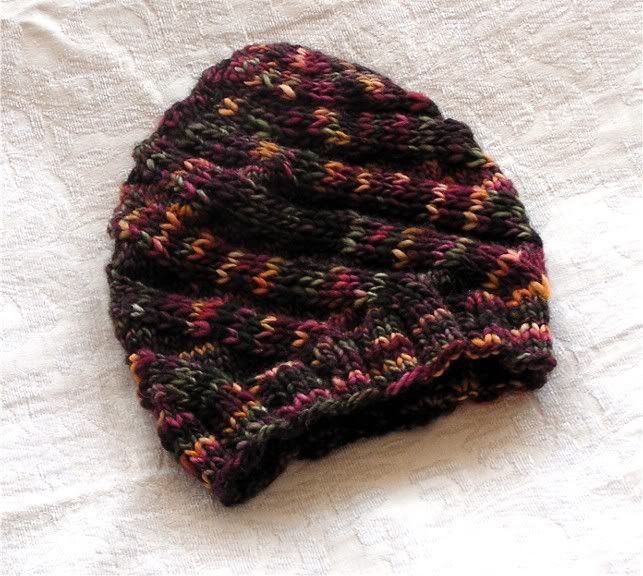 Manos Odessa
Finished February 21, 2007
Pattern:
Here
, modified to accommodate yarn
Yarn: Manos Del Uruguay from
Knitomatic
Needles: 5mm Addi Turbos, magic loop method
I put a lot of effort into swatching for this hat, the swatching took me almost as long as the hat itself. I wanted to make sure I knew how many repeats to take out to make up for the thicker yarn. In the end I went with 8 repeats (from the original 11) but now that it is finished I think 9 repeats would have been ideal.
The finished item has a vaguely papal quality to it, one might less charitably call it the nipple effect. As such, it worked it's way off my ears through the day. Not surprising considering my hat curse. Also, just as I had predicted over and over again, the finishing of this hat brought about a warm spell in the weather. Tuesday I had a few more decrease rounds to go: -15C. Wednesday I sewed in the ends: +3C. Perhaps my knitting affects climate change? Alert Al Gore.
I ripped it out once because it wasn't long enough, and I think that another inch more wouldn't have hurt. Perhaps I didn't factor in the fact that I was asking the hat to stretch quite a bit (I like a tight hat).
I have yet to block this hat, and am still holding out hope that this will solve all my problems.