The first of my Spring Surge Sweaters are done on time!
I did sew the last button on this baby at 10 AM on Easter Sunday, finishing it just in time to wear to church (my determination was perhaps fueled by the fact that I had packed no other appropriate outfit) and so I did have my new sweater for that day. Even a bonnet, if you count the hood.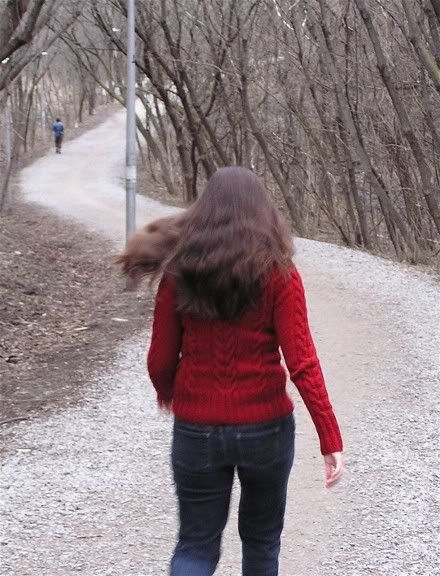 None of my pictures are that helpful for people who want details on the sweater, but really it looks pretty darn exact to the pictures in Knitscene (yay!) but if anyone has questions or want to see a particular part, just let me know.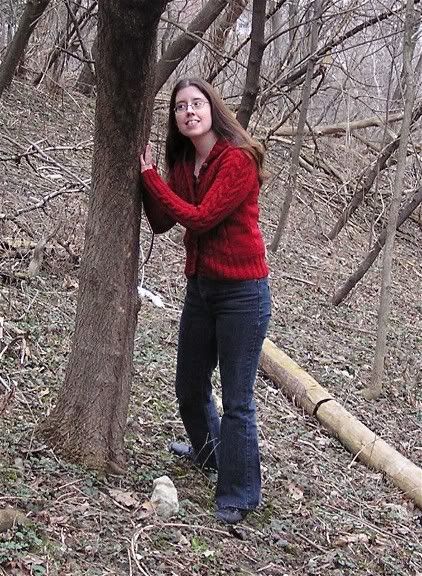 (could I look goofier? must be spring fumes)
One of the things I love most about this sweater is the colour. It is so super-saturated that I am sure I will have to wash it separately all its life, but it is completely worth it. Look at how it pops out from the gray of spring! When I walk down the street in it (and trust me, I throw it on
whenever
I am leaving the apartment) I feel like I couldn't stand out more from the dreary sidewalks and naked hedges if I were wearing a fluorescent orange vest. Now, my goal is not usually to stand out, but for this sweater I will make a happy exception.
It was a great pattern to knit, some
errata
, but nothing that I couldn't have figured out on my own. A very fast knit, despite the hood. (note: there is a LOT more knitting in a hood than you think there is. It is the area equivalent to about 2/3 of the back!) The cables are easy-peasy without a cable needle, and with the nice elasticy wool they spring into place and really pop.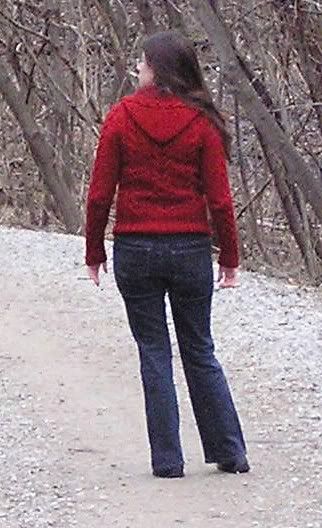 So: the details!
Central Park Hoodie
Started: March 12, 2007
Finished: April 8, 2007
Pattern:
Knitscene, Fall 2006
, from Rosemary!
Needles: This loose knitter used a 3.5mm Addi for everything but the ribbing.
Yarn: Ram Wools Selkirk in Red (120) 4.5 skeins (248m each)
Modifications: I extended the main body (the cable repeats) of the sweater in length. I wanted a size small for snugness, but I am long-waisted and this extension makes the sweater much more wearable than it would have been on me.
I also extended the button bands to 2" instead of 1.5". I don't know if I would do this again, the edges of the button bands flip up a bit, but I haven't actually blocked them yet, so we shall see.
I wet blocked all the main pieces, and it really really improved the wool. This is a rough under-processed wool with lots of vegetable matter in it, but with a fairly even ply. The label says it gets softer with each wash, and I have had no problem with it against my skin so far.
This is a warm snug sweater, and I have been wearing it as a jacket over a tank top in our April weather of 5 degrees. It might be chilly, but the snow is gone and the plants are starting to wake up again!